SAP BusinessObjects Licences
We have been helping companies with their licence needs for many years and ensure our clients buy the right licences at the best price. Our aim is always to deliver the best and most cost-effective BI solution for all. As a SAP Silver Partner, we are experts in all aspects of SAP BusinessObjects.
SAP BusinessObjects offers a market-leading, comprehensive suite of BI tools for all companies which are looking to get the most from their data through agile visualisation, data discovery, reporting, dashboards, and predictive analytics.
Latest update: SAP BusinessObjects BI 2025
SAP is committed to existing SAP BOBJ BI suite customers by adding enterprise reporting capabilities continuously, with the most recent SP03 update in 2022. This means most BI use cases will easily transition to SAP Analytics Cloud when mainstream maintenance support for BOBJ 4.3 ends in 2025.
To allow more time to adopt SAP Analytics Cloud, SAP is releasing a new version of BOBJ, named SAP BusinessObjects BI 2025. This new version will receive mainstream maintenance support until at least end of 2029. It will be available on-prem and through managed cloud, and will focus on the most widely adopted SAP solutions. Read the SAP BI Statement of Direction (April 2023) to find out more.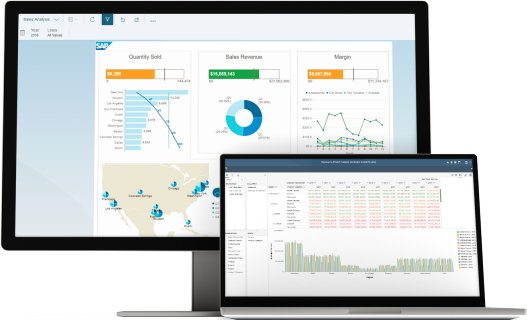 SAP BOE Platform: BusinessObjects for Large Enterprises
The SAP BOE platform combines agile Discovery and Analysis, Dashboard, and Reporting for all skill levels of the end user, as well as Predictive Analytics and Data Integration with a market-leading, centralised BI infrastructure. It comes complete with sophisticated support for security, administration, and BI content distribution. The semantic layer hides the technical underlying detail from the end user, while also ensuring a consistency of terminology and rapid development of reports and dashboards.
SAP BusinessObjects Edge: Solutions for SMEs
SAP BusinessObjects Edge is the BI tool of choice for mid-size companies which are looking for a lower-cost licence but with similar levels of functionality to the BOE Platform. The entry level price is based on only 10 Named Users and is an ideal option for smaller companies looking to have the power of enterprise BI tools but at a reduced cost.